What Makes ABP Different?
ABP Food Group Grass Advantage
ABP Food Group Ireland's export sites are situated at a latitude of 53 degrees north. This is the optimum global positioning for sustainable natural grass production.
Even better, the frequent rainfall and moderate temperatures means that Ireland has the longest grass-growing season in the EU. We call this our 'Grass Advantage'. It is the reason our grass-fed beef is natural, sustainable, low in saturated fat, high in vitamins and minerals and always Ultra-Tender®.
Animal Welfare
ABP Food Group use industry-leading expertise and cutting-edge facilities to deliver the highest possible welfare standards.
At ABP Food Group animal welfare is a cornerstone of our business – so we've invested heavily in ensuring that our customers can be 100% secure in the integrity of our processes.
Farm Assurance ABP Food Group source farm-assured cattle from throughout the UK and Ireland, which is accredited to EN45011 and independently audited and certified.
Facilities & Lairage Design
We've worked closely with bestselling author and world-renowned livestock-expert, Temple Grandin, to design and plan our facilities and procedures.
She has approved every aspect of our lairage process – assisting in our goal to ensure our cattle are relaxed and stress-free prior to slaughter.   Not only does this give our livestock the respect and integrity it deserves, but the lower pre-mortim glycogen levels and PH balance of stress-free animals makes for a higher quality and tenderness of carcass.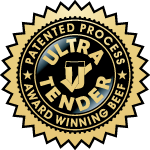 Ultra-Tender®
Ultra-Tender® was developed by ABP Food Group to guarantee consistency and tenderness in beef.
The patented hanging process increases the natural breakdown of muscle fibres in each carcass while it hangs and matures prior to de-boning. Aligned to the patented hanging process, ABP Food Group has created a method of sympathetically chilling the carcass to prevent cold shortening and guarantee absolute tenderness in the beef.