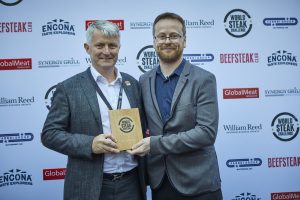 ABP won 29 awards at the World Steak Challenge 2018, which took place in London on July 4th.
The annual competition sees beef producing Nations across the globe compete for these prestigious industry awards. ABP saw off stiff global competition to take home the highest number of awards by any company on the night. They were awarded six gold, nine silver and 14 bronze accolades across a number of different categories.  ABP Poland were particularly pleased to be judged outright winners of the World's Best Fillet Steak which follows on from their success as overall winners of the World's Best Steak in 2017.  These awards are an endorsement of the unique Ultra Tender Process that the company utilises.
This announcement follows ABP's recent success at the Superior Taste Awards at the Brussels based International Taste and Quality Institute (iTQi) Awards.
Dave O'Connell, European Commercial Director, ABP Food Group said: "ABP is delighted to have received 29 awards which included 15 awards for ABP Ireland which is an endorsement of our unique Ultra Tender Process and an acknowledgement for the hard work and dedication of our teams in Ireland and Poland."
The awards reaffirm ABP's position as the leading beef processor in the EU. The World Steak Challenge offers leading steak producers across the globe the chance to benchmark their products against competitors and aims to highlight the benefits of eating steak as part of a healthy balanced diet. As part of the judging process, products are judged in both raw and cooked form by an expert panel of judges against internationally agreed criteria. Judges for the blind tasting included top UK, European and Australian chefs, butchers, food writers,
Go back