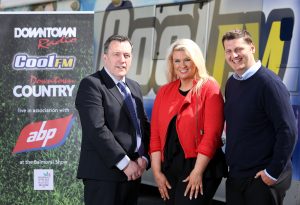 ABP has announced its plans for a milestone 150th Balmoral Show. Already a platinum sponsor of the Show, ABP have entered into a partnership with the leading, local commercial radio broadcaster Downtown/Cool FM to become its official partner for broadcast coverage from the Show.
Commenting on its commitment to this year's Balmoral Show, Managing Director of ABP in Northern Ireland, George Mullan, said, "The Balmoral Show showcases all that is great about farming, locally produced food and rural life in Northern Ireland. ABP was one of the first meat processors to get involved in the Balmoral Show. We've been at the forefront of quality meat production in Northern Ireland for over three decades doing business with around 4,000 farm families. So we're delighted to support Downtown's broadcast coverage of the show, bringing this special event to an even wider audience on this landmark anniversary year."
At the show the Downtown Radio Show Stage in association with ABP will be presenting musical acts to perform for visitors, with top names like Lisa McHugh and Derek Ryan in this year's line-up.
ABP will also be hosting its prize-giving ceremony for the finalists in the ABP Angus Youth Challenge on 18th May at 11am at the Cattle Lawn. TV presenter Paul Clark will MC the presentation of 20 Angus cross calves to the recipient school teams, Belfast Royal Academy; Enniskillen Royal Grammar; Rainey Endowed Magherafelt; and St Louis Grammar Ballymena. The teenagers will go on to rear their calves through to finishing and share the net profit at sale to ABP amongst their group.
George Mullan continued, "The ABP Angus Youth Challenge is an innovative way of  investing in future skills for a sustainable beef production industry. Through our competition we will be shining a light on the quality of our Premium Northern Irish Angus beef production, whilst also inspiring and nurturing talented young people who are interested in careers in the industry."
ABP's livestock team will be on hand throughout the four days at stand, B43, to talk with farmers on the opportunities to do business.
ABP is also sponsoring several livestock prizes in the cattle and sheep rings on Wednesday 16th and the Sheep Interbreed Individual Championship on Saturday 18th May.
ABP in Northern Ireland is part of the UK division of ABP Food Group. Its sites in Newry and Lurgan employ over 650 people and supply high quality beef, and lamb produce to leading supermarket chains and food service providers. ABP Food Group is the largest beef processor in Ireland and the UK.
Find the ABP Angus Youth Challenge on Facebook #ABPAngusYouth
Go back