ABP, and one of its key Italian customers Fileni have provided support to Bord Bia at two of its recent Meat Academy events in Italy recently. The "Meat Academy" is a training and educational event run by Bord Bia that is aimed at chefs, agents and their representatives, butchers and restaurateurs.
The events seek to deepen public knowledge of Irish meat through presentations, discussions, workshops and last but not least, a tasting of premium quality Irish beef. Almost 200 butchers and food professionals attended the workshops. Attendees received presentations on ABP's ultra-tender process along with the characteristics and of Irish prime beef.
With over €160 million worth of beef exports, Italy is Ireland's 4th largest market.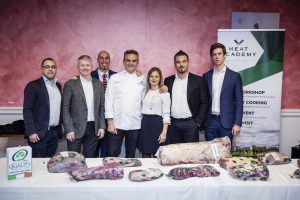 Pictured Left to Right: Matteo Mazzarella ABP Export Sales Executive, Eoin Ryan, ABP European Sales & Marketing Manager, Paolo Fabiani Fileni, Giorgio Pellegrini – Pellegrini Macelleria, Francesca Perfetto – Bord Bia Italy,  Sergio Sasso Fileni and Niall Smith ABP Sales & Marketing Executive
Go back