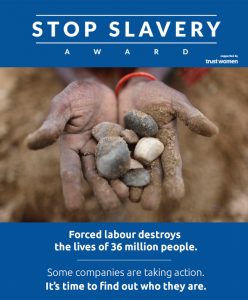 ABP is thrilled to announce it has been shortlisted for the Thomson Reuters Foundation's Stop Slavery Award.
Now in its third year, the initiative recognises companies that have taken concrete steps to eradicate forced labour from their supply chains in order to demonstrate that businesses can play a critical role in putting an end to modern-day slavery worldwide.
Tom Kirwan, managing director at ABP Beef UK says, "ABP UK has invested heavily in its People Agenda and is committed to embedding a culture of transparency and proactivity. We work in a complex supply chain which means it is very important that we collaborate with our suppliers, partners and customers to consistently improve standards.
"As an industry, we have made great strides to improve employment practices and we are proud that ABP UK is at the forefront of change.
ABP UK has been shortlisted alongside Apple, Unilever, Outland Denim, Standard Chartered and Thai Union. Previous winners have included Adidas, Co-op, Intel and C&A.
To find out more click here
Go back