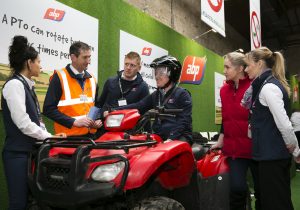 The BTYSTE 2018 will take place in the RDS, Dublin from 10th to 13th January. ABP Food Group will also be hosting a stand at the event to educate attendees about farm safety, which will be located at W1.
To engage with attendees and create awareness, the ABP team will demonstrate farm safety challenges with the assistance of Agri Kids, Ireland's leading farm safety educational platform for children. ABP will also run practical farm safety presentations by Jim Dockery and his team from Farm Relief Services. Through peer-to-peer activity and demonstrations, ABP aims to spread the word about farm safety and the necessity to educate all farm users, including young people.
The issue of farm safety is still very prevalent in Ireland today. Last year, 24 people were killed in farming accidents according to the Health and Safety Authority (HSA), 14 of whom were over the age of 65. 14 of those deaths resulted from tractor and farming vehicle accidents, including quadbikes, a vehicle used by many farmers including young people.
Martin Kane, Managing Director ABP Ireland, said: "Through this sponsorship, ABP Food Group wants to increase awareness particularly amongst young people about the dangers on our farms and finding solutions to these dangers. Unfortunately, farm safety is still very much an issue in Ireland and more attention needs to be given to it, as has been indicated by the figures released by the HSA concerning farming deaths last year. We hope that our efforts at the exhibition will make more people aware of farm safety precautions."
The BT Young Scientist & Technology Exhibition is now in its 54th year and is one of the largest and longest running STEM events in the world. The theme for BTYSTE 2018 is "it starts here", highlighting and celebrating the role the exhibition can play in captivating a love for science, technology, engineering and mathematics.
Go back