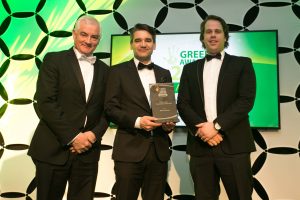 ABP, one of Europe's leading agri-business companies, was a double winner at the Annual Green Awards, which took place on Tuesday, February 20th, in Dublin. The company was given the accolade of Green Large Organisation of the Year and also picked up the Sustainable Water Achievement Award.  These prestigious awards recognise ABP as a clear industry leader when it comes to sustainable practices and environmental initiatives.
Sustainability is a key priority right across ABP Food Group. In October 2017, the company was recognised for its exceptional performance in water management across all of its processing sites, at the annual Carbon Trust Sustainability Conference in London. In 2017, ABP Food Group became the first company globally to receive quadruple certification from the Carbon Trust for the third time.  The Carbon Trust standard is the world's leading independent certification of an organisation's impact on the environment, and verifies operational implementation in the areas of energy consumption, CO2 emissions, water use and waste output. The Carbon Trust has been working with ABP for over 6 years, as the company has striven towards excellence in its sustainability standards.
John Durkan, Sustainability Manager, ABP Food Group said: "Targets are one thing, results are another and these awards once again demonstrate the tangible impact of our sustainability initiatives across our supply chain. At this time hundreds of innovative sustainability initiatives are taking place across all of our sites in Ireland and the United Kingdom, and it is great to be recognised for the work we are undertaking.  Furthermore, the awards are testament to the hard work and commitment of our colleagues across the business in Ireland and internationally in striving for sustainable excellence."
Launched in 2008, the Green Awards recognise the extraordinary contribution and commitment that companies now make towards growing a greener future in Irish business today.  The Green Awards is a leading platform for sustainability intelligence, leadership and innovation in best green practice in Ireland.
Go back