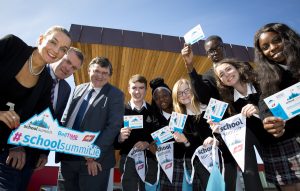 School Summit 2018, in association with BellTime magazine, will take place at the National Show Centre, Swords, Co. Dublin on the 10th and 11th of September 2018. Up to 5,000 Senior cycle students and their teachers will have the opportunity to engage, explore and experience the many opportunities that are available to them across a number of disciplines and sectors that are prevalent in Irish Education today.
Organisers of School Summit 2018 found that there is growing evidence of a skills shortages in Ireland due to the low uptake on apprenticeships. To help address this growing issue, School Summit 2018 has engaged with and invited companies across the private and public sector to provide key information on apprenticeship opportunities, as well as third level institute options.
The event is sponsored by ABP Food Group, and will host over 70 exhibitors including Irish companies in the banking, sports, agricultural, engineering, charity and education sectors, and public sector organisations. There will be a number of diverse educational zones at this year's School Summit including a comprehensive apprenticeship and traineeship zone. Leading employers will deliver a number of keynote presentations and panel discussions.
Richard Bruton T.D, Minister for Education and Skills commented on the upcoming event: "There are a number of pathways to further your education, whether you choose third level, a post leaving certificate course, or the apprenticeship and traineeship routes. This School Summit is a great opportunity for you to explore the different options available to you."
Rachel Hanna, Managing Director, Bell Media said: "Bell Media is delighted to launch School Summit 2018. The theme for this year's event is 'Pathways to your Future', through this we aim to promote and create awareness among transition year and fifth year students about the number of pathways to further their education, whether they choose third level, a post leaving certificate course or the apprenticeship and traineeship route. Over the next number of years, Ireland will be facing a skills shortages, so this needs to be addressed now. The future is yours, so go for it. I would also like to thank our main sponsor ABP for their support."
Participating organisations include ABP, ESB Networks, Dublin City University, Institute of Physics, KBC, SIMI, Combilift, FIT and Irelands' new Tech Apprenticeships, FTAI apprenticeships, DIT Apprenticeships, QQI, ICHEC, The Defence Forces, An Garda Siochana, DCU, Griffith College, Drogheda Institute of further Education, Harper Adams University, CAFRE, St. Marys University, RAC, Accounting Technicians Ireland, Chartered Accountants, Dunboyne College, Sallynoggin College, Gaisce, Institute of Physics, Celtic Adventures, Walk in My Shoes, GAA Museum, Aventuro, Colaiste Uisce, Cumann na bhfiann, Get Ireland Walking, Conradh na Gailge, Healthy Ireland, and Youthreach.
School Summit 2018 will take place from 10.30 am – 2.30 pm on 10th and 11th September at the National Show Centre, Swords, Co. Dublin. For more information on this event, please visit www.SchoolSummit.ie
Go back